I finally figured out the trouble with my new memory card for my camera. Had to buy a whole new card readers. Anyway I've added a few pictures of our vacation!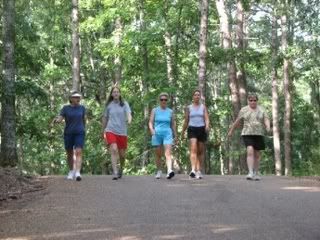 This pic reminds me of the beginning of some tv show but I can't remember what it is. This was one of our morning walks- 3.5 miles everyday! That's me second from the right in the grey and black.

We vacationed in Drasco, AR-


we went here last year as well. It's on a lake right at the edge of the Ozarks and it is absolutely beautiful! The nearest Super Wal-Mart for grocery shopping is only 24 miles away but it's a 55 min. drive because of all the winding roads!!

In all we had 13 people there. My family of four, Lewis' brother and his wife and daughter(from Houston), his sister and her husband and their two kids (although they are really young adults now) (from Phoenix), my mother in law and then a family friend of the Houston family-although she is now a family friend to all of us.

Believe it or not, even with that many family members together it all went smoothly! No major arguments, no one threatened to kill anyone or drown anyone in the lake!!

We spent Monday at a place called Dam Site Marina (what a name huh??). The kids and the men folk all spent their time jumping off cliffs that ranged from probably 20 - 30 feet. Then two of them were brave enough to jump off the 50 foot cliffs!!! Not me baby- I kept both feet on the ground this year-last year my SIL and I braved the 30 foot ones.

Then we rented a pontoon boat Tuesday/Wednesday and spent most of both days on the water. It was awesome. The boat had a hard top and I spent most of mine time lying up there. It was so hard to resist sitting up there perched with a nice tall drink and waving like a good Southern beauty queen (ok, a girl can dream can't she). Most of us even were brave enough and jumped off the top of the boat. Then everyone (including my 71 yr old mother in law) had a turn being pulled behind the boat on tube. Lots of fun in the sun those days.

We also played lots of game- Sequence, Scatagories, Categories (or something like that), 99 (a new card game the Phoenix family taught us), chess, ping pong, Turbo Yahtzee and Air Hockey! There really weren't a lot of dull moments. And then there was my favorite past time-reading. Loved just laying around the house reading. My SIL and I actually stayed home one afternoon just to have the house to ourselves and read in the quiet. It was wonderful!

We really did all have a great time and we're already planning our trip next year. The Houston family and our family have vacationed together for the past 7 years- it's awesome!!

Ok, so I'm sure I've bored you long enough- oh wait-I have two funny stories to share- on the way up we stopped in Sieverville, TN at the Knife Works shop- spent some time looking at knives and buying a few- Mark found something that he wanted to buy using his own money and then Luke asks if he can buy a leather jacket with his own money(he's been wanting one ever since he watched Grease a few weeks ago)- Here is how the rest of the dialogue went- what? child you don't have that much money- but Mom, it's only $16.99- What (again)-no Luke I'm sure it was $169.99 and you just missed the other 9- No Mom, they are only $16.99. At this point Lewis pipes in and says that if they have leather jackets for only $16.99 we'll buy you one. So Luke marches us over to the jacket section and I'll be darned if they don't have "leather" jackets for $19.99. Of course it was close enough to $16.99 that we bought both boys one. Then later we're in the car and Luke says he's hot and needs the air turned up- the next thing we know he's wearing the leather jacket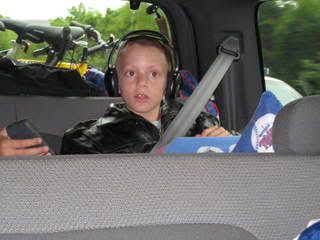 Funny story number 2- are you still hanging in there??? We had two neighbor sisters take care of our cat while we were gone so we wanted to get them some souvenirs. We bought them Elvis things when we stopped in Nashville right outside of Graceland and I wanted to get them a t-shirt from the area where we were staying. I looked at the Dam Site Marina where the cliffs were and it look quite a while to find appropriate ones. Didn't really want something with Dam Site on it and "Get some color in your cheeks at Dam Site Mariana" with a woman wearing a thong just didn't seem right for a 10 yr old, a 7 yr old and a 3 yr old- so finally I find some cute ones that say "Nautical and then had Greer's Ferry Lake" on them. We get the goodies home and start putting them all together to take to the girls- upon further inspection I see that the t-shirts say NautiGAL not Nautical!!! UGH!!! Thank goodness one of the other marinas would let me order online and ship appropriate t-shirts for me! Whew that was close!!!

I promise to share some pics as soon as I get them down loaded- I know you're waiting on pins and needles!!!