Well, Jules at Everyday Mommy is having a great Father's Day give away so I thought I'd post a story about my boys to put my chance in the pot!

Yes, sometimes they truely can be sweet. Despite the occasional boxing matches in the living room (I have been known to tell them to put the gloves on and go at it, and the first one that cries they'll both get in trouble! LOL), the wrestling matches over who gets the bigger bedroom in the new house (that's a whole different story) and the sporadic differences of opinion they have with their father over baseball- my two boys do have a softer side.

Here is an example: Two weeks ago my oldest son Mark's baseball team played in the City Championship. DH was an assistant coach and my youngest son Luke was the bat boy. Luke made almost every practice and was one of their biggest fans. He even received a game ball after one game and the coach praised him for his constant encouragement. Being able to serve as bat boy for the team was a very important job for Luke and he took it very seriously.

After two grueling games our team came out the Dixie Minor League City Champs! Of course the celebration was wonderful. The team lined up on the foul line and awaited their medals. The head coach called each player and they each took turns going in front of the cheering crowd to receive their much deserved awards. Luke quietly stood back and watched as each player received their medal. After the celebration the coach brought the team together to talk "shop" with them, congratulate them and praise them. He then called my DH over to give him his medal- as soon as the medal touched DH's hands he quickly tossed it to Luke who was sitting among the team. To everyone's surprise (especially his proud Momma) Luke was quickly reduced to tears. He was so proud to have received "his own medal" and especially that his Dad was the one to give it to him. He rose from his seat and gave his Dad a huge hug. What surprised us all even more was that the entire team was in tears as well (along with most of the parents). Whether it was the flow of emotions from a great win or just the fact that a young boy was thankful for the recognition or just thankful for a gift from his Dad, I'll never know- but what I do know is that was one moment that made this Momma proud to be a "boys Momma"!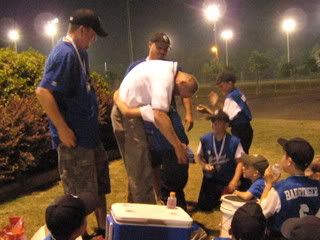 Luke hugging Dad after receiving his medal- Mark(older brother is the one clappng in the background)